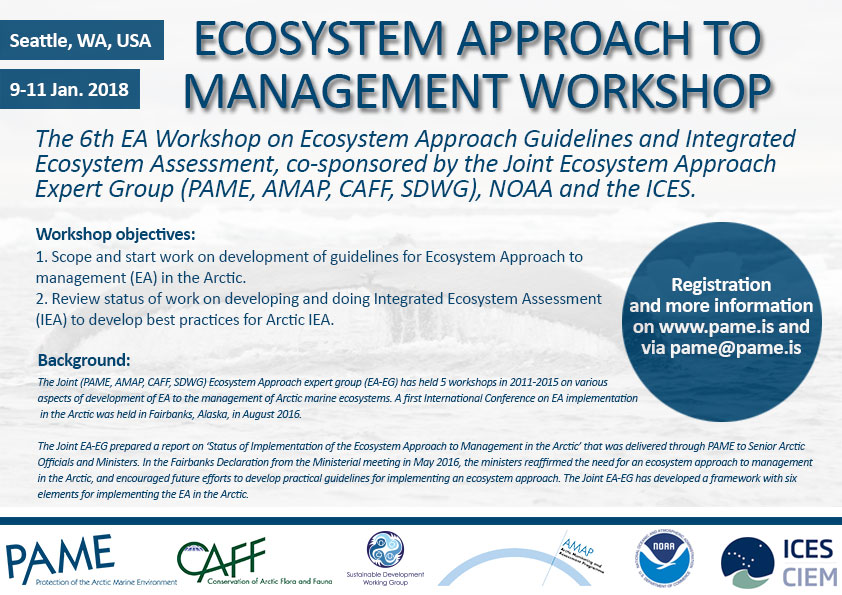 The 6th Ecosystem Approach to Management workshop was held in January 2018 in Seattle, W, USA The Joint (PAME, AMAP, CAFF, SDWG) Ecosystem Approach expert group (EA-EG) held 5 workshops in 2011-2015 on various aspects of development of EA to the management of Arctic marine ecosystems. A first International Conference on EA implementation in the Arctic was held in Fairbanks, Alaska, in August 2016.
The Joint EA-EG prepared a report on 'Status of Implementation of the Ecosystem Approach to Management in the Arctic' (
download here
) that was delivered through PAME to Senior Arctic Officials and Ministers. In the Fairbanks Declaration from the Ministerial meeting in May 2016, the ministers reaffirmed the need for an ecosystem approach to management in the Arctic, and encouraged future efforts to develop practical guidelines for implementing an ecosystem approach. The Joint EA-EG has developed a framework with six elements for implementing the EA in the Arctic.
The work at the 6th EA workshop focused on two related subjects:
Development of EA guidelines, as requested by the Arctic Council ministers, and
share and summarize information and experiences with integrated assessments of ecosystem status as a step toward developing best practices for Arctic IEA, for measuring trends and pressures for coastal and marine areas (which is a follow-up of EBM recommendation 3.5 from Kiruna in 2013).
Cick here to see presentations from the workshop, and all further information.