Arctic Marine Litter Workshop
5-6 June 2018
Akureyri – Iceland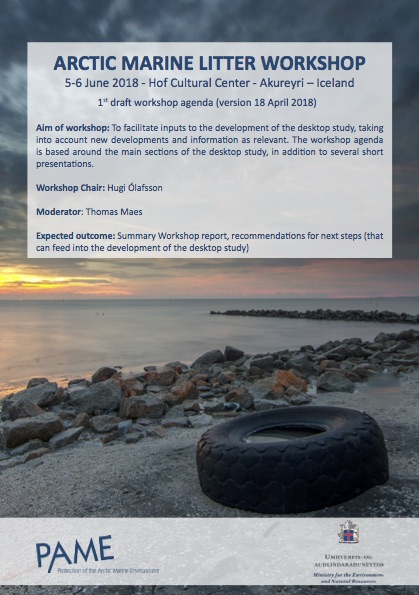 The Arctic Marine Litter Workshop will be hosted by Iceland and the workshop venue will be at the facilities of the Hof Cultural Center (Strandgata 12, Akureyri map and facilities).

PAME is convening an Arctic Marine Litter workshop together with the Ministry of the Environment and Natural Resources in Akureyri, Iceland. The workshop will be held from 5-6 June with the goal of facilitating inputs to the development of PAME's Desktop Study on Marine Litter including Microplastics in the Arctic, taking into account new developments and information as relevant. The desktop study will be released at the Arctic Council Ministerial meeting in May, 2019.

--
Draft program:
The first draft agenda has been released, as of April 18th.

List of participants (as of April 16th)

---

Registration: Please note that we have restrictions on the number of experts participating at the workshop as follows:

Nomination of up to 2 experts from each Arctic Council member state and Permanent Participant organizations.

Nomination of 1 expert from each Arctic Council observer state and organization.
Register online: here by the 15th of May 2018 (Note that the registration deadline has been extended)

Aim of workshop: To facilitate inputs to the development of the desktop study, taking into account new developments and information as relevant.
---
Expected outcome:
Summary Workshop report
Inputs and next steps for the development of the desktop study
---
Travelling information to Akureyri:
By flight: Via Air Iceland Connect, regular flights multiple times per day. Website: www.airicelandconnect.com
By bus: Buses travel from Reykjavík to Akureyri daily. Click here to go to the Strætó website.
By car: Driving from Reykjavík to Akureyri takes approximately 4.5 hours.
Hotel information
A block booking of 30 rooms reservation has been made at Hotel KEA in Akureyri. The price is 31.500 ISK/310 USD per night. Breakfast is included. The block booking is only available until April 9th. To book a room please send an email to This email address is being protected from spambots. You need JavaScript enabled to view it. or call +354 460 2000, using the booking code CON-4793.
Hotel KEA https://www.keahotels.is/en/hotels/hotel-kea
Other hotels and guesthouses in center of Akureyri:
Icelandair Hotel Akureyri
Hotel Akureyri
Hotel Nordurland
Acco Guesthouse
Guesthouse Hvitahusid
Torg GuestHouse
Arctic Marine Litter
Click here to read more about the Arctic Marine Litter project on the PAME website.
---