PAME's mandate is to address marine policy measures and other measures related to the conservation and sustainable use of the Arctic marine and coastal environment in response to environmental change from both land and sea-based activities, including non-emergency pollution prevention control measures.

These measures include in coordinated strategic plans as well as developing programs, assessments, best practices and guidelines, all of which aim to complement or supplement existing legal and policy instruments and arrangements.
---
Regional Action Plan on Marine Litter
PAME is currently developing a Regional Action Plan on Marine litter which is co-led by Canada, the Kingdom of Denmark, Finland, Iceland, Norway, Sweden, USA, AIA and OSPAR with close collaboration with other working groups.

The Regional Action Plan will address both sea and land-based activities, focusing on Arctic-specific marine litter sources and pathways that will play an important role in demonstrating Arctic States' stewardship efforts towards reducing the negative impacts of marine litter, including microplastics, to the Arctic marine environment. The Regional Action Plan may be updated in subsequent bienniums to address new and emerging information and priorities; therefore, the structure needs to be realistic and adaptable.
---
Marine litter: Desktop Study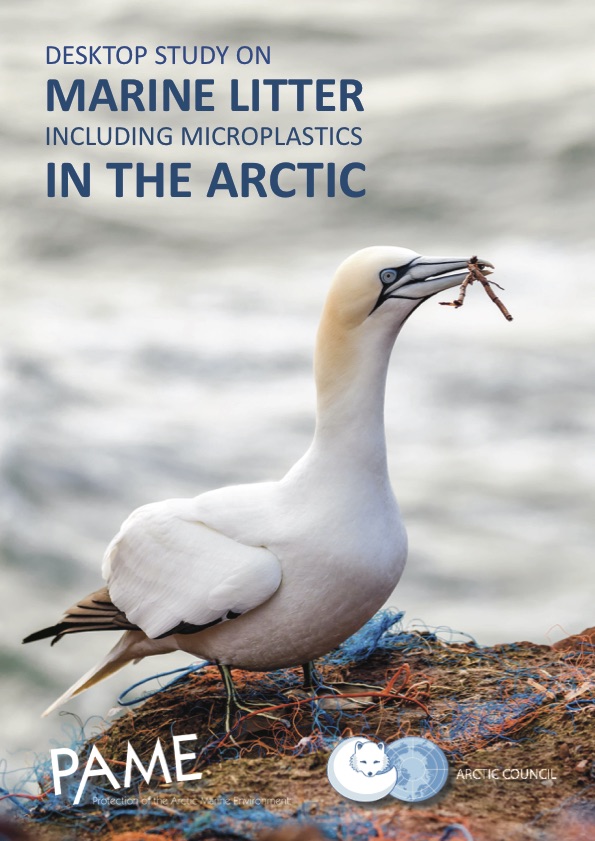 PAME conducted the "Desktop Study on Marine Litter, including Microplastics in the Arctic" as part of the first phase of a Marine Litter Project included in the 2017-2019 Work Plan. This Study contains five sections:
Rationale, Objectives and Geographic Scope
Applicable Governance Frameworks;
Literature Review;
Knowledge Gaps; and
Main Findings and Next Steps
The development of the Desktop Study was driven by the need to better understand the state of knowledge of marine litter in the Arctic. The objectives of the Desktop Study are to:
evaluate the scope of marine litter in the Arctic and its effects on the Arctic marine environment;
enhance knowledge and awareness of marine litter in the Arctic;
enhance cooperation by the eight Arctic States to reduce negative impacts of marine litter on the Arctic marine environment; and
contribute to the prevention and/or reduction of marine litter pollution in the Arctic and its impact on marine organisms, habitats, public health and safety, and to reduce the socioeconomic costs litter causes.
The Desktop Study improves our understanding of the status and impacts of marine litter, including microplastics, in the Arctic region. This kind of compilation has not previously been done for the entire Arctic region and is by no means comprehensive.

Section II contains a brief review of the governance frameworks applicable to combatting marine litter, including not only Arctic Council efforts, but also other international and regional instruments designed explicitly either to tackle marine litter or address pollution more broadly.

The core of the report, Section III, is a literature review that considers the sources, drivers, and pathways of marine litter, including microplastics, entering the marine environment, information on current knowledge of its distribution, how it interacts with and impacts marine biota, and efforts underway to monitor marine litter. In Section IV, the Study identifies a number of knowledge gaps before summarizing main findings and possible next steps in Section V.

The Desktop Study identifies potential next steps to further examine and address marine litter, including microplastics, in the Arctic Ocean and inform future work under the Arctic Council as summarized in Section V. There is a need for more comprehensive knowledge on Arctic-specific marine litter, including microplastics, sources, pathways, and distribution, as well as effects on the Arctic marine environment. Developing a Regional Action Plan (RAP) on marine litter in the Arctic is timely, recognizing that the RAP can be modified over time based on the state of knowledge. Developing a monitoring program as part of, or in parallel to, the development of a RAP is particularly valuable to establish a baseline of marine litter, understand changes in distribution and composition, and inform decision-making.
---
Regional Programme of Action
Arctic Council Ministers adopted the Regional Programme of Action for the Protection of the Arctic Marine Environment from Land-based Activities (Arctic RPA) in 1998 and updated it in 2009. The Arctic-RPA is a dynamic programme of action that uses a step-wise approach for its implementation and recognizes the continually evolving situation in the Arctic environment and the need for an integrated approach. It is the regional extension of the GPA, and as such provides a framework for addressing the main pollution source categories and respond to the global concerns. Marine Litter is one of eight contaminant categories of the GPA and the Arctic RPA.
---
Arctic Marine Strategic Plan
The Arctic Council's Arctic Marine Strategic Plan 2015-2025 (AMSP) provides a framework to guide its actions to protect Arctic marine and coastal ecosystems and to promote sustainable development. The Strategic Plan addresses both short-term and long-term challenges and opportunities, through forty Strategic Actions. They include:
7.1.3: Improve the understanding of cumulative impacts on marine ecosystems from multiple human activity-induced stressors such as climate change, ocean acidification, local and long range transported pollution (land and sea-based), marine litter, noise, eutrophication, biomass overharvesting, invasive alien species and other threats.
7.2.8: Actively support efforts, in cooperation with indigenous peoples, to:

reduce long range pollution accumulating in the Arctic marine food-chains, and;
address climate change and ocean acidification by reducing emissions and implementing adaptation measures, as a matter of urgency.

7.3.3: Explore whether there are substances in addition to oil that would benefit from additional pollution preparedness and response cooperation among the Arctic states.

Arctic Ocean Review
Arctic Council Ministers initiated the Arctic Ocean Review (AOR) project in 2009 under the leadership of the PAME working group to provide guidance to the Council on possible ways to strengthen governance, and to achieve desired environmental, economic and socio-cultural outcomes in the Arctic through a cooperative, coordinated and integrated approach to the management of activities in the Arctic marine environment.

AOR includes a chapter on Arctic Marine Pollution, including two recommendations:

Arctic states should continue to identify, monitor and assess the combined effects of multiple stressors – inter alia climate change, ocean acidification, shipping, living marine resource use, regional and long-range pollution, and offshore oil and gas exploration and extraction – on Arctic marine species and ecosystems. Support the ongoing work under EBM, AMAP and CAFF including the initiative "Adaptation Actions for a Changing Arctic" to achieve this endeavor and strengthen the link between the current known status and future management of Arctic marine species and ecosystems.
Arctic states should reaffirm the importance of their engagement in the UNFCC to reduce global greenhouse gas emissions as a matter of urgency, recognizing the significant potential threats posed to Arctic marine ecosystems and Arctic biodiversity from climate change and ocean acidification identified by AMAP and CAFF. Arctic states should also increase their leadership role in the study of ocean acidification in Arctic waters.