CHAPTER SUMMARY
There is important additional guidance to Chapters 1, 2, 3, 6, 8, 9, 10 and 11. There is also detailed additional guidance for important definitions under the Polar Code such as the Mean Daily High Temperature, the Mean Daily Average Temperature and the Mean Daily Low Temperature. For full text of Part I B Additional Guidance see below.

SUBMISSIONS
Additional Guidance to Section 2 (Definitions) of the Introduction)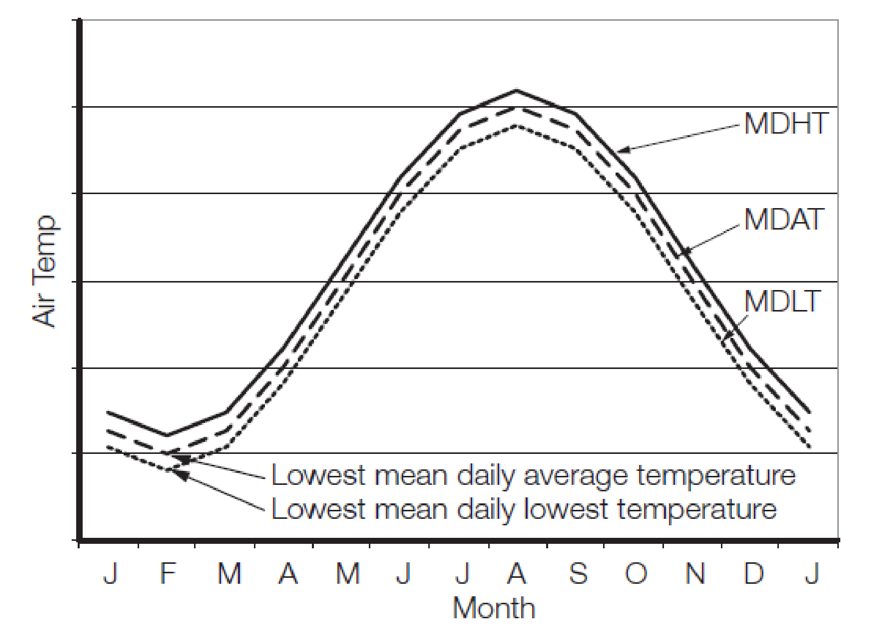 Definitions used in the figure above
MDHT – Mean Daily High Temperature
MDAT – Mean Daily Average Temperature
MDLT – Mean Daily Low Temperature

Guidance instructions for determining MDLT:
Determine the daily low temperature for each day for a 10 year period.
Determine the average of the values over the 10 year period for each day.
Plot the daily averages over the year.
Take the lowest of the averages for the season of operation.

POLAR CODE CHAPTERS: EXPLANATION AND SUBMISSIONS